Malwarebytes FREE
 
Most people are unaware that their computer is always at risk of becoming infected with viruses, worms, trojans, rootkits, dialers, spyware, and malware that are constantly being rewriten and evolving becoming harder to detect and remove. I use Malewarebytes FREE version as an added security measure to my Norton and Spyware Doctor software programs. Malwarebytes is one of the most sophisticated anti-malware programs utilizing techniques that can detect and remove some of the most malicious programs from your computer.
Using the FREE version of Malwarebytes is a manual scanning and update process but that is partly why it is FREE. Even FREE it still scans and removes malware and security threats as a full version paid program would.
 If you feel your computer has slowed down or may be infected this is a great program to download and run a FREE scan that willl also REMOVE the infections without you paying for it first.
FREE version download — Click Here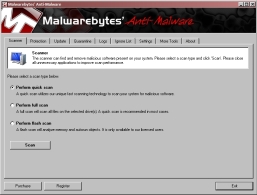 —————————————————
Full version is also available — Click Here
Activating the full version unlocks realtime protection, scheduled scanning, and scheduled updating. For consumers and personal use, it is a one time fee of $24.95. For corporate and business customers, annual licenses are required, please see our Corporate Licensing program.