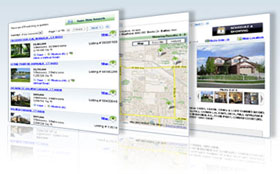 Unlimited Property Searches!
No more counting or tracking the number of property searches your web site visitors have run. No more worries of overage charges from exceeding search quotas. Unlimited Property Searches included with any of our MLS Web Site Hosting accounts.
Professional MLS Websites
MLS live search, free property organizer accounts and lead capture are automatically part of the site structure. All this giving your site visitors everything they need to search, save and compare properties in helping them find the perfect home.
Lead Capture
In the process they are prompted with the opportunity to have an agent contact them if they have any questions or would like to schedule a showing.
MLS Website Development
MLS Website Development is a process that we have made less complicated. We provide layout and graphic design services, programming and code eidting along with video production making your MLS Web Site top of the line and functional.
Already have a MLS powered Website but would like to update?
Transfer / Re-Develope your current website. We almost always are able to save you money and provide more services.
Add-Ons
We also have add-on scripts for newsletters, blogs, galleries and more. The things needed in todays market to get and keep your visitors attention.
MLS Website Hosting Solutions
We provide Premium MLS Website Hosting solutions along with domain registration services. Our affordable MLS Web Hosting plans are designed for all types and sizes of hosting needs.
Generous hosting space including email services and spam blocking.
Our plans are simple and give you what you need to have a successful OnLine Internet presence.
If you already have a web site we can transfer it to our MLS Web Hosting services at no charge.
MLS IDX Web Site Hosting starts at $69.95 month for a complete package.
Contact Us for a FREE Evaluation
of your Website and Hosting needs.
——————–
The IDX product supports the following comprehensive list of features:
IDX Property Search
The #1 reason consumers go to real estate websites is to search for listings
Basic and Advanced Search Options
Search by MLS Number or by Street Address
Quick search widget for your homepage
If you belong to more than one board – easily search multiple markets
Interactive Map Search***
Update your website with the latest in Map Search technology
Offer consumers an easy way to find listings
Provide a market overview of listing inventory in different areas
Email Updates – Stay in Touch with Your Leads!
Automatic daily emails to homebuyers
Your email address, your branding, your contact information
Track when homebuyers get new listings and what they view
Links back to your site and the homebuyer's property organizer
Export data to contact management software
Analyze the popularity of your listings
Property Organizer – Keep Homebuyers Coming Back
A folder where homebuyers save listings
Save their custom search settings
Manage their daily email updates
Enables you to understand what homebuyers are seeking and who is hot
Capture more detailed contact information from leads
Featured Properties – Highlight Your Own Listings
Display your active listings automatically from MLS data
Customize with your own description, photos, open home times, and more
Display sold & pending listings
Multiple layouts available
Featured Listings slide show for your homepage
Hot Sheets – Highlight Your Specialty And Market Insights
A custom collection of listings from your MLS
Handpicked or based on a custom search
Showcase listings you specialize in: fixer uppers, waterfront, condos, etc.
Add your own comments to each listing
Hot Sheets slide show for your homepage
Open Homes – Capture the Hottest Leads
Easily maintain an open homes page
Open home dates automatically published with detailed listings
Past open homes deleted automatically
Agent Bio Pages*
Give your Agents' their own presence on your site
Agent roster with links to agent bio pages or agent's own website
Bio pages with photos, profile, and contact information
Agents can showcase their active and off-market listings
Agent Lead Routing*
Assign new leads to agents
Allow consumers to select an agent they'd like to work with
For office listings, option to route lead notifications to the listing agent
Agent Login System*
Separate Control Panel for each agent
Allow agents to manage their own listings and leads
Customized toolset for each agent
Listing Management
Customize and enhance data for Active listings
Manage off-market properties
Add non-MLS properties as Supplemental listings
Lead Management
Instant access to all your leads and subscribers
At-a-glance view of who is active and who is not
Assign leads to agents, with broker PLUS packages
Export your leads for use with other marketing tools
Reports
Analyze traffic and activity on your site
Track your most active leads
See which listings are attracting the most attention
Lead Capture Forms
Prominent calls to action on nearly every page
Schedule a Showing for capturing your hottest leads
Request More Info for consumers who know what they're looking for
Email Updates for ongoing cultivation of leads
Multi-Office Support*
Showcase each of your offices
Display an office photo and list all agents who work there
Highlight listings specific to that office
Listing Syndication**
Market and promote your listings to a wider audience
Drive traffic back to your site and capture those leads
Save time and money spent on manually uploading listings to syndication sites
Track which sites provide the best leads so that you can better focus your marketing efforts
Other Tools – More Ways To Engage Homebuyers – (included with all IDX packages)
Mortgage calculators
Home valuation request tool
Online open home scheduler
Virtual tours
Flexible layout and configuration
——————-
* These features included with small broker or higher accounts.
**Listing Sydication is an add-on option for any of the IDX packages.
*** Interactive Map Search is an add-on for any of the IDX packages.